God encourages us in those moments we need it most, even if we haven't recognised that we need it. Whilst I was away at Rivercamp, there were several things that struck me.
The first being we all dance and move with the same heart. The second that a whirlwind is created as each of us moves in someway.
Let me share some more.
Part of my journey with UC Grace has been overcoming people's perceptions of what I do and my heart behind it, as well believing and trusting that I was good enough to do it, and there was a need for it. It hasn't been easy, at the Going Deeper weekend in July I shared some of this. That in the beginning of UC Grace I judged my 'success' on the number of people that came to my events and if I didn't have many, I wasn't good enough and doing it right.
Yet I knew the foremost reason that I was doing UC Grace was because it was about the hearts of those that came. The hearts that God needed to work with, take on a journey and grow. That's what my heart needed to do, in order to recognise the gift God had grown inside me. A passion to share, motivate and grow others in movement and dance with Gods word as central.
During my time at Rivercamp I noticed a group of people that always congregated near a space at the side at the front, and claimed the space so to speak, and as the meeting got underway I realised they were movers and dancers of varying degrees of ability. As I began to watch them, a wrestle began in my spirit. A wrestle to watch, receive and bless what I was seeing, but at the same time resentment, longing, and feeling put out and it was unfair! Lots of emotions that had crept up and I didn't know where to go with. Except I did, but only because of the journey I had been through with UC Grace.
Let me unpack this.
When I am in an environment where my emotions seem to be getting the better of me, or, better put, the Devil is trying to windle his way in. I check myself. I take a pause, a visible breath. The negativity that I was experiencing was pulling up my insecurities, ones that I had defeated. But there, in that present moment, in a new situation they were trying to come to the surface again. I just kept saying to myself, 'they have a heart to move too,' 'they are worshipping God their way.'
In those moments in the worship, where I was desperate just to be lost in it and dance myself, I had to deal with this before I moved forward. I had to deal with the elephant! So, I began a conversation with God, asking what I have got to learn here, what did I need to deal with, recognise, bless, repent. Tough going!
As I relaxed into his presence, he encouraged me that it wasn't about me being 'left out' or 'not included', it was about opening up opportunities for others to experience God.
The essence of UC Grace….
As UC Grace has grown, part of my battle has been addressing how UC Grace is seen, or what it is. It's only been the past few years that I've acknowledged that it is a business. I say this here because it is through that acknowledgment that God presented me with opportunities for UC Grace to grow and develop.
Over the few days after that initial encounter in the tent at Rivercamp, I thought about it more, the impact of my reaction to what I had felt, and asked God to reveal more about it.
I had the most amazing picture.
This is the reason for this post, but I wanted you to understand a few things before I shared it. Every dancer and movers journey is different. You will experience some negativity at some point on your journey about dancing and moving, the key is how you deal with it when you are presented with it.
My heart is to release and equip others with their faith through dance and movement. Jesus will always be the number one person I go to for decisions, reasons and conversations, and that includes business ones. UC Grace is a business, it's a business God has blessed with growth over a very big journey, the picture God gave me, not only encouraged me in my journey with UC Grace, but the journey of Christian dance organisations, businesses, and individuals. Whether they are moving now, will be movers, or will simply just experience the soaking of the Holy Spirit through someone moving around them.
So the picture…
During one of the last worship times at Rivercamp, the tent had come to a very hushed quiet, what I began to see were small whirlwinds over the tops of groups of people. As these whirlwinds began to move around the place, gold started to be threaded through them.
All the whirlwinds then converged into one. Into a tornado. A tornado of GLORY, filled with gold. As it moved it changed the atmosphere, transforming those it moved over. The more it moved the more different colours came into it. The more it moved it was clear that it was the interaction of what was inside the tornado that was causing the shift in the atmosphere.
As the image faded away, it was an ah ha moment. A moment where I recognised why God had to reiterate to me before about how precious each person's movement was, and how each individuals movements when converged with others creates something far more powerful than we can ever fathom. It creates a movement in the heavens that transforms those around it.
This is something that I knew, but sometimes you can loose sight of it, when you're tired and been giving out lots.
There is however more.
My friend told me about a picture an artist had in a tent, that I needed to go and look at. This is it… what do you see?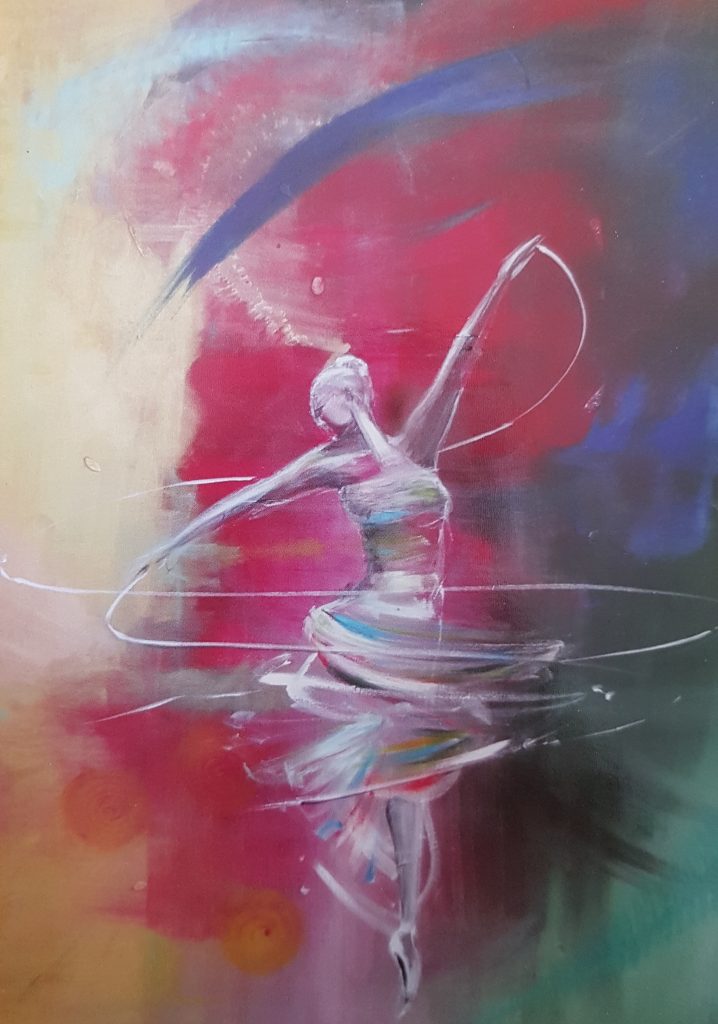 Two things were brought to my attention. The whirlwind effect of colours spiralling with the reaction to the environment around it. But also, how it fits in with the UC Grace logo. The lady that painted this is Helen Yousaf a prophetic artist and an amazing worship leader.
I was just astounded (again) at how God brings everything together. Are you a dancer? Are you ready to change the atmosphere that you move in? Are you ready to take your whirlwind where God tells you? Get in touch as I would love to hear from you.
Want to be kept up to date with all things UC Grace? Head here.