Sometimes we can feel like we are stuck in a rut with the way we worship dance, sometimes feeling like we are always doing the same thing. God doesn't think this, He loves all the movement you create. That being said, there is nothing wrong with choosing to explore and push the boundaries of our movement to deepen our conversation with God. Here are 5 simple ways that you can grow your worship dance choreography.
I love association when it comes to teaching. So rather than using boring words I've gone for imagery and something to visualise. The Bible and worship are full of imagery anyway so it makes sense to use it to understand and develop your worship dance choreography. So, let's break these 5 tips down.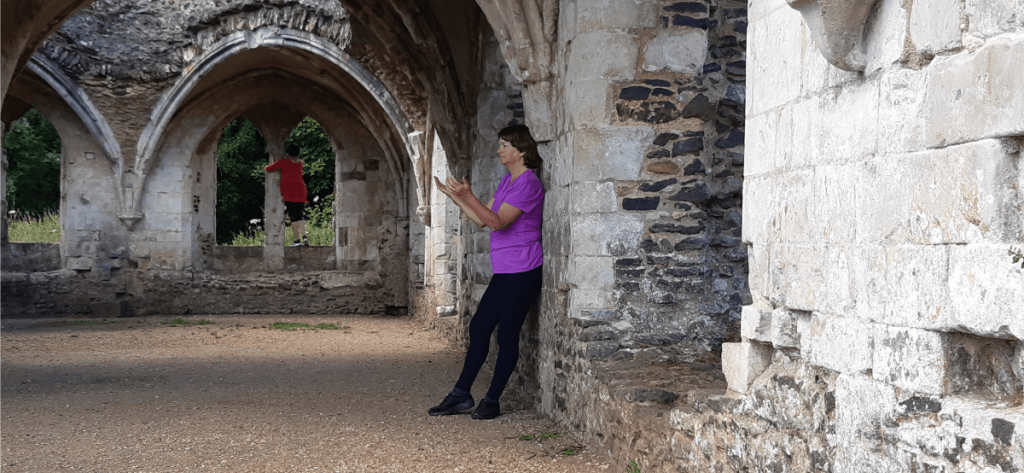 Painting your canvas
Painters often only have a 2D canvas to work with, but as dancers our canvas is 3D, 360 degrees, often we can forget this. The easiest way to explain this is, imagine there is a giant glass box, bigger than you and you are put within it. Your 'performance' space, or area to dance in, is not just in front of you. It in front, behind, to the side, up above and down below. It is everywhere. Not only are you aware that you have all this space as your canvas, but also any observers that see you will recognise a depth in your movement due to the different facings that you focus on.
Golf ball to beach ball
Size plays a massive influence on the movement that you create. Just like painting your canvas it impacts on the visual eye and the energy of the dance, as well as the story. Minute finger movements to large whole-body movements each tell a story. Think through some of the movements that you have done recently, have they all been the same size or have you varied your approach to a movement?
Sloth to leopard
Speed can be something that we are afraid of as dancers. However, it is something that creates an ebb and flow in our dance, drawing both yourself and observers into what is happening. What speed naturally dominates your movement? A consistent continuous one? Or do you find yourself picking your moments with which to be fast or slow? What your body demonstrates with speed engages the dancer and observer on the journey that you are on. Whether that's taking the same movement and doing it at different speed, or have different movements at different speeds. Scripture poses a great opportunity use this worship dance choreography.
Cricket to fly
I am sure by now you can work out what cricket to fly might mean!! Both are creatures that move and travel about in different ways (and speeds). You've got the cricket that travels ground through jumping and clinging to things. Then you have the fly, who flies (!) about chopping and changing direction. Just like when you paint your canvas you change the focus and facing of your movement. Travelling and moving across your space is important. You create patterns and shapes with the movement across the floor and jumping, twirling, sliding, twisting, running and more provide a way to move across that space. Cricket to fly is a fabulous way to immerse yourself in worship dance choreography.
Monkey
My last tip is about expressions, focus, quirks. The extra bits that help tell the story, express the song or reveal the meaning of God's word. All these other bits are important in worship dance choreography to cement the journey, exploration and performance. Monkeys are great at showing up in different ways what's needed, bringing in that extra little bit of flare.
Applying the use of these tips into worship dance choreography
Not sure how you can build out a sequence? Here are 5 applications from the worship dance choreography tips above –
Look at a piece of scripture (e.g. Psalm 36.5-7) identify different levels, changes and focuses within the verse. How can the things you've noticed help you to paint your canvas?
Looking at same scripture, identify the words that connect to size. How can they transpose to movement?
Take the movements you created for size and choreograph two variations of it and different speeds. What do you feel the speeds demonstrate?
In what ways can you lengthen and grow the movement sequence that you have at the moment? Go back to the scripture, what other things stand out for you? How can you add them into the sequence to show travel?
Finally, pause! Think about the worship dance choreography tips AND the scripture. What else can you add into your sequence to show what the scripture is saying. Think about the journey you are showing and the story you are creating from the scripture.
I've only skimmed the surface with how you can use these 5 worship dance choreography tips. If you want to know more check out the membership and mentoring options with UC Grace here.
This blog post might also be useful for you – 3 Ways to explore Worship dance choreography with Philippians 3.14.