As I've been gathering notes for this year's Christian dance weekend. I started to think about what it was that made people come on a weekend in the first place. Plus, I think it's always good to remember where our roots are and why we do what we do! Over the decade and more that I have been running UC Grace. Different groups, workshops, training and performances opportunities have evolved. Some not even in my planning, but God has placed them in the pathway of UC Grace.
At every event I marvel at how God brings it together. Who he brings and the impact that the event creates in others. Let me take you a very short journey of the UC Grace Christian dance weekends, how they began, their impact upon myself and others and what they look like now!
How did UC Grace Christian Dance Weekends begin?
The first musings about a dance weekend began in 2013, when I first started to have discussions with other Christian dancers. They were asked whether they'd either value a Christian dance day retreat or a weekend away. Plus what it was that they'd see that time away being. Many of the Christian dance workshop participants at this point had been dancing with me from the beginning. I had watched them grow and develop and were eager for more. However, we all recognised that the odd 90-minute workshop just didn't cut it and we wanted something more! Going back over some of the responses from an initial survey I sent out. It is awesome to see how God has worked in it all.
With just a handful of resources I took the plunge and stepped out to run my first Christian dance weekend for UC Grace. I didn't know the true amount of work it would take. The people it would bring or that it was just the beginning of many!
My heart was to provide a space that would enable people to grow in their Christian dance worship movement skills, their relationship with God and build relationships and fellowship with others.
So how have UC Grace Christian Dance Weekends developed?
For that first weekend in 2014, my heart was hopeful that I would get to 15 participants, that didn't happen. I could have let that disappoint rule how I went forward with my planning. However, God has spoken quite clearly since I began UC Grace that it is about the hearts of those that come to UC Grace events. Not about the numbers.
That first year, I was blown away by how God moved. I changed the whole of my Sunday plan on the Sunday morning as I followed God's lead. We took dancing out of our room and out into the centre to bless others in the building. We crowned ourselves with Gods crown, and broke down walls that didn't need to be there.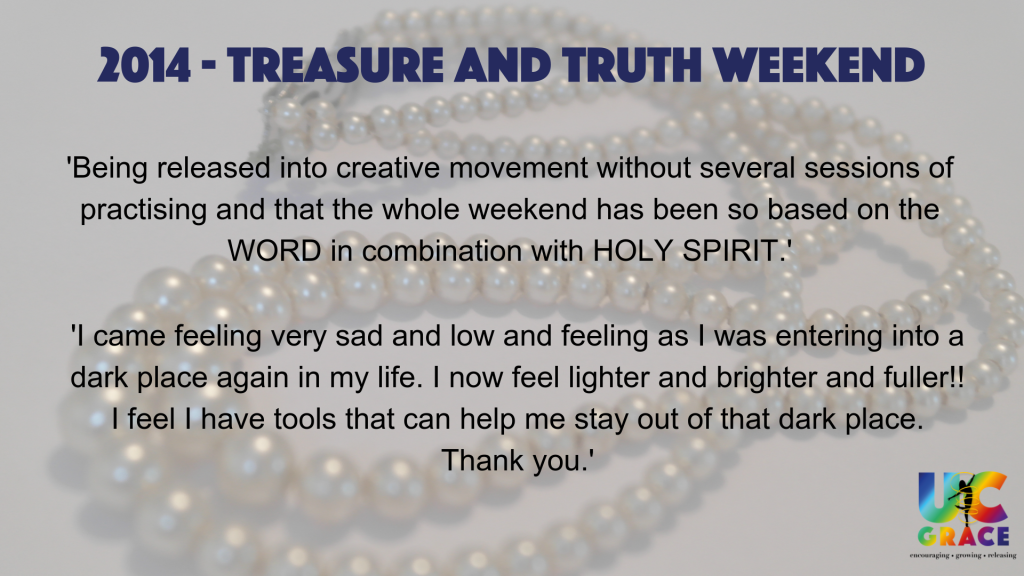 We did this by standing on God's word and letting scripture and God's voice lead the sessions. Since then, that's how the weekends have developed. God always goes first. Even if I've spent a long time putting the plan together, because, His plan is the ultimate plan.
Since that first weekend, I always look with delight at the next weekend that will happen. At who God will bring to come and move, and dance and grow. To explore what he lays on my heart. How I can help change people's perspectives on themselves, their movement and their journey with God as my lead.
What's the soul of the weekend?
This picture below, sums up the soul of the weekends perfectly.
They say pictures show 1000 words, they demonstrate what can not be said, that is so true. As you look on the outside looking in at this picture. You see a hug, a warm embrace between a group of friends. But what they don't show you is the journey each of these ladies have been on over the weekend. It doesn't show the struggles they've had to step out in their faith, it doesn't show when times were tough. It doesn't show what God has said to them or how they have been taken on a journey.
This picture was taken at the last session of our 2018 dance weekend (you can watch a highlight video here). We had just had a time of praying and dancing (so important that we do both of these things together). Only the ladies in the picture really know what was going on in their journey at that point.
But for me it shows a freeze frame of friendship, support, love, prayer, journey and acceptance that they are letting God lead their journey.
WOW!!
But what's the layout of a Christian Dance weekend?
If you're like me, you want to know details about what specifically happens at a UC Grace Christian dance weekend. The details that normally you don't find out till you're booked!
Most weekends follow a similar format. We have main sessions Friday evening, Saturday morning and evening and Sunday morning. Sprinkled in between are breakout sessions for you to pick and choose from. These fit with the theme of the weekend, and could be anything from –
Learning a dance
Getting crafty and creative making something
Developing a skill. Such as dancing with flags, material, leading. Responding to the Holy Spirit, prayer dance and movement – there are so many options!
Formal and informal quiet times
Prayer space
Chatting, chilling and eating cake with friends old and new!
In terms of the actual structure of a main session, that is down to the individual leader. However, most sessions follow the format of:
Welcome
Prayer
Scripture focus with talk and discussion
Exploration exercises
Reflection time
Implementation
Time to hear from God
There will be opportunities both to create movement on your own and in groups as well as learn specific movement.
On our Dancing Free Christian dance weekends we 'build a dance' throughout the course of the weekend. Something fun to do together, and offers the chance for you to take back to your group or church and re-use if appropriate. Each session we would add a little bit on.
How did the Christian Dance weekend Going Deeper begin?
UC Grace Christian dance weekends have turned into a key fixture in our calendar. Something for everyone to look forward to. When I ran my first one in 2014, I didn't think people would be interested in a yearly weekend. So, I began to arrange them bi-annually (this has developed into our Dancing Free weekends). It gave me time to develop other ideas and continue to grow other areas of UC Grace.
However, God has been gracious and given me opportunities to grow connections, build friendships and have the privilege to journey with others. I felt UC Grace was at a point where it now needed to offer those dancers and participants. Who had journeyed with it for over 10 years another opportunity that would take them deeper on a more personal level. That's where the Going Deeper weekends developed.
Going Deeper provides a smaller more intimate group to develop their Christian dance worship skills and personal faith journey. Dancing Free Christian dance weekends allow a larger number to gather in fellowship, experience dancing and learning from others. Whilst exploring the use of arts and creativity alongside prayer and movement. Plus being in a place to build friendships and generate a network that draws people across the country together.
Check out our Dance Weekends page to find out when the next weekend is and I hope to see you there!
Our 2022 Dancing Free Christian Dance weekend is running 1st – 3rd April at Kings Park Conference Centre, Northampton. There are still spaces and we would love to see you there! Head here for more info and booking.