As a Christian dancer, I make the decision to outwardly declare through movement what God is doing, what He's saying and how others can 'see' Jesus. As multiple Christian dancers and movers do this together, something very special develops with this Christian dancing army. A tangible sense of God's presence falls in a different way.
In the summer of 2019, God gave me the most precious picture of what happens when this Christian dancing army gets going, when it steps out in its many forms and communicates Jesus.
This amazing image I got was pre-pandemic, pre when things were turned upside down, but the significance in it being revealed to me when it was, began a foundation!

Let me share some more.
Part of my journey with UC Grace has been overcoming people's perceptions of what I do. My heart behind it, and believing and trusting that I was good enough to do it, and there was a need for it. In the beginning of UC Grace I judged my 'success' on the number of people that came to my events and if I didn't have many, I wasn't good enough and doing it right.
However, I knew the foremost reason that I was doing UC Grace was because it was about the hearts of those that came. The hearts that God needed to work with, take on a journey and grow. to recognise this, that's what my heart needed to do, in order to recognise the gift God had grown inside me. A passion to share, motivate and grow others in movement and dance with Gods word at the centre.
There was that tricky balance here of what my heart knew and what my head needed to accept. In that journey from the very start of UC Grace (2010) through to now. I constantly and consistently need to come back to that word that he gave.
The Whirlwind Tornadoes
In 2019 I had the opportunity to go along to a Christian festival called Rivercamp. A whole weekend of excellent, worship, weather, and friends! Whilst there I observed a group of dancers and movers who seemed to always put themselves at the front in the big tent. I was curious. Curious to know where they'd come from and who they were. There wasn't the opportunity to have that conversation with them. But there was time to observe their movement and listen to what God was saying.
As I watched some jealousy began to rise up within me about why 'they'd got the opportunity to be there', which I had to get into check before I could worship more. To do this, I began a conversation with God, asking what have I got to learn here, what did I need to deal with, recognise, bless, repent. As dancers and movers, could we be a Christian dancing army. Despite moving as an individual, God is working to bring us together as one.
As I relaxed into his presence, he encouraged me that it wasn't about me being 'left out' or 'not included', it was about opening opportunities for others to experience God. For the hearts that he put in the pathway of UC Grace and other Christian dance organisations and companies to be touched.
But what was the picture…
During one of the last worship times at Rivercamp in 2019, the tent had come to a very hushed quiet, what I began to see were small whirlwinds over the tops of groups of people. As these whirlwinds began to move around the place, gold started to be threaded through them.
All the whirlwinds then converged into one. Into a tornado. A tornado of GLORY, filled with gold. As it moved it changed the atmosphere, transforming those it moved over. The more it moved the more different colours came into it. The more it moved it was clear that it was the interaction of what was inside the tornado that was causing a shift in the atmosphere.
As the image faded away, it was an ah ha moment. Where I recognised why God had to reiterate to me before about how precious each person's movement was. Plus, how each individuals movements when converged with others creates something far more powerful than we can ever fathom. It creates a movement in the heavens that transforms those around it.
This is something that I knew, but sometimes you can loose sight of it, when you're tired and been giving out lots.
But there's more…
I was at Rivercamp with a close friend and she came to tell me about a picture an artist had in a tent. And that I needed to go and look at. This is it… what do you see?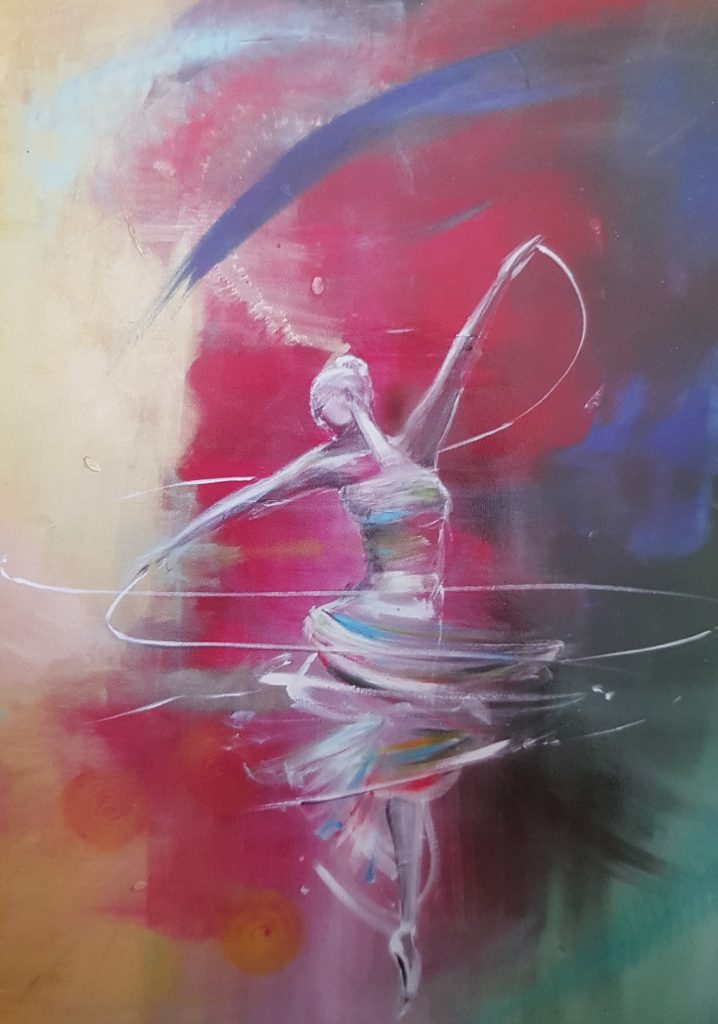 Two things were brought to my attention. The whirlwind effect of colours spiraling with the reaction to the environment around it. This amazingly, fits in with the UC Grace logo. The lady that painted this is Helen Yousaf a prophetic artist and an amazing worship leader.
A Christian dancing army
The combined pictures of the whirlwind and this picture from Helen. Helped to draw together some very important things that God is saying to Christian dancers.
Even though we are individuals, the movements and dances we bring before others are bringing glory to God. They stir the atmosphere and what's around, bringing an overwhelming sense of God's presence. We are a Christian dancing army. As we step out and demonstrate outwardly what God is saying inwardly, we come together as one.
Little did I know how this picture would be incredibly important as 2020 hit and the world was enveloped in the COVID lockdowns. It was an incredibly tough time for many. But, it was also a time that many that dancers and movers sprung up and stepped out in their communities. A true representation of many whirlwinds happening around the world. Converging to help shift and change the atmosphere of what was happening.
It was out of this that the hashtags #dancingarmy and #changetheatmosphere began.
God always astounds me how he brings everything together. Are you a dancer? Do you feel ready to change the atmosphere that you move in? Are you ready to take your whirlwind where God tells? To be part of Christian dancing army. Get in touch as I would love to hear from you.
Want to be kept up to date with all things UC Grace? Head here.