The interaction of worship is different for each person. Everyone's understanding of drawing closer to God in worship will be different. Part of this is recognising the types of worship that people connect with are individual to that person. I want to share 3 things that have impacted me using dance to worship.
It's all in the MOMENT. God gives each of us 'moments' in our lives. Moments to be 'in' and respond to.
How did it start?
I am often asked how I started to use dance in worship. The simple answer is, as a child I had the freedom to copy someone else and was encouraged to grow and explore with movement. Adults are such role models to children – watching and doing provided a way for me to draw closer to God – my faith grew beneath the surface.
Think about a seed and its roots, often we wait a long time for the seed to sprout. Underneath the surface things must happen first. Roots are crucial to the seed for it be anchored in the soil, they also help to obtain the right nutrients and conditions for the seed to flourish. For many years roots were anchoring within me, ready to give me the nudge when I needed it.
From an early age I realised that people connected with worship in different ways – through singing, playing an instrument, writing poetry, doing art, moving their body and much more. Some people assume that worship is just singing in church, it is so much more. Everyone has the chance to explore types of worship that suit them.
What is dance to me?
Dance for me is a way to connect, engage, share and journey with people in their faith, a stepping stone to something deeper. God always amazes me with the way he shows up and ministers to people during workshops and dance days. He cannot be put in a box and you have to be willing to expect the unexpected.
Using dance to engage with one's faith is about putting an action to a thought, feeling or word. Allowing God to move through you and speak to you through that. It is the language I use to deepen my conversation with God, respond to the Holy Spirit and reveal Jesus to others.
Therefore, for me, dance and faith are one. I feel Jesus, experience him, and get carried on the wind by him.
So how can fusing dance and faith together act as one of the types of worship?
Fusing dance and faith together ignites a passion, brings a purpose to your faith and a freedom to the journey you have with God.
Passion…
Can be such a big word and mean so many things, but when you worship you are choosing to share in something that is powerful and special to you. I have this phrase 'Passion in a Suitcase'. For quite a while my circumstances meant I had to move around with where I lived and the things that I did. Each time my passion was not lost but put into a suitcase. How I unpacked it when I arrived at my new destination always depended on God.
Our passion can be used in different ways, it is the ignition to what will come after which often provides the act of choosing to bring out something that is within. Dance and movement offer that opportunity and an interaction to explore how dance can bring passion to types of worship.
Purpose…
Is choosing to put use dance to communicate with God using the solid foundation that comes from the Bible. Just as our faith needs to be rooted in the Word, so does our movement.
The Armour of God is an amazing symbol of the 'equipment' that God gives us to worship and follow him. By choosing to raise our arms whilst singing in praise and worship, kneel in response to the words of a song or bow our heads to pray. We are making movement and putting purpose into our journey.
Dance in worship need not be flamboyant or to a professional standard. Instead it is strong and contagious and part of our everyday actions. Just like worship is part of our day when we praise Him for the glorious skies, thank Him for our safe journeys, cry out to Him in pain. We are all already dancers in our own right. God created us to move (Acts 17) and we all move in our own individual way.
Using the word 'dancer' might be too strong for some of you. So instead consider a phrase my husband likes to use 'I don't dance, I move well'. For him having the association of being a dancer is too strong. But he will happily say that he moves well and enjoys doing so when he does. Perhaps for you, this is the preferred way of looking at it; moving well and moving with God.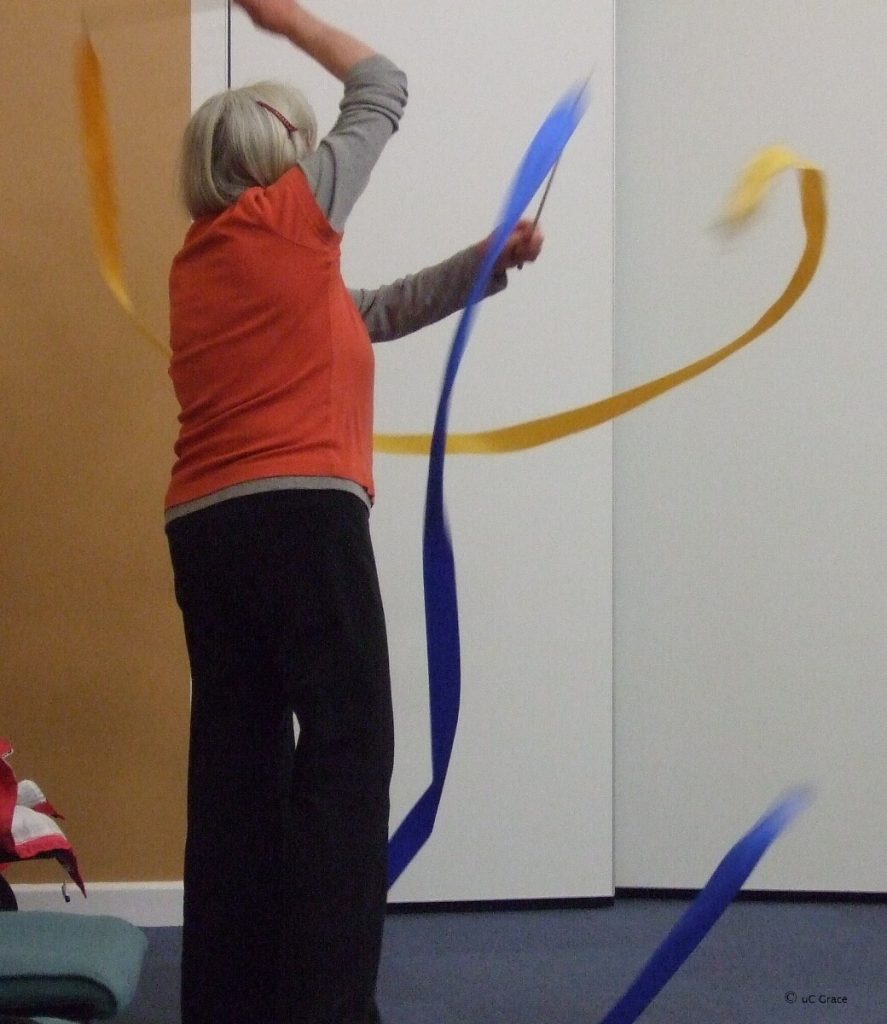 Freedom…
God gives us freedom to demonstrate our journey how we need to. He also gives us the Holy Spirit, to enable us to grasp a deeper understanding of walking with Jesus. Faith and dance stimulate a different perspective on your relationship with God. Offering a safe way to explore other types of worship.
A simple exercise you can try is to think about 'passing on the fire inside'. Think about a ball of light that is inside you wanting to grow, a tiny little flame. Flames are not always big to start with, they grow. As you imagine this flame glowing and growing inside you, how does it encourage you to start moving your body in reaction to this?
The Holy Spirit is always inside us, sometimes it is a still small flame, other times a raging fire, but we've got to be willing to let the fire grow and move in our lives as God would want it.
I want to leave you with a testimony from a dance day. It's from a gentleman who is musical and plays in a worship band, who bravely came on the dance day having done no moving before. He had been feeling for a while that he wanted to move and do something much more in worship…
"It was very moving to dance as I wanted to worship music, meeting with God, moving my body freely for the first time without fear of judgement. Like strolling in long grass beside a river with God. It made me cry as I felt free to use my body to bring glory and praise to God for the first time.'
If you'd like to understand more about how worship dance can impact your life have a read through 1000 Reasons to dance for the King. There also opportunities to engage in our events, head over to our events page.
Don't forget you can also join the mailing list here ?