Following on from my blog post How can I start to Prayer Dance, I wanted to take the time to be more specific about ways that you can begin moving and encountering God through prayer and movement. What's important to remember is that all movement day to day can be a part of your prayers. It's the intention that's behind the movement when you do it.
I want to break it down into 3 easy movements for you to explore at your own pace – stand, sit or kneel and lie down. Each of these are postures that can be made before God, during your worship and prayer time. The reason these movements work well is because it encourages a 3-dimensional view of your prayer. Looking forward, behind, around you and up above, it changes your perspective to what you are praying for.
Let me break it down a bit –
Standing
Standing itself is an action, think about all the different ways you can stand and whether they are always static. For example, we very rarely stand completely still. Often, we are swaying slightly, shifting from foot to foot or walking/ moving forward.
The intention behind a standing prayer is the decision to look forward to what is to come. Accepting what's happened behind and choosing to seek God with the future or ways to move forward. It's noticing what happened before to get you to where you are now and striving forward to see what will come.
Sitting (or kneeling)
Sitting often requires an acceptance of the situation or moment that you are in. It might also involve an exhale of breath and the release of tension.
The intention is pausing in the current whirlwind to see where you are. Allowing yourself to be in the present, notice things around you. People, conversations, God. To choose to take big breaths for that moment.
Lying down
Lying down forces, you to look upwards, to lift your face to what's coming down, receive, accept and look at all the areas you couldn't see from the other perspectives!
The intention is surrender, turning your face to God to receive his spirit, to listen to his voice and give to him the things that you have been holding onto.
But how will these movement help me with encountering God through prayer?
Let's put it into practice…
Before we add an intention to your movements, get familiar with the movements and the space you're in. Work your way through the different postures making note of what you see and how you feel. Often there is one that feels more comfy.
Now decide what you want to pray for…
Sometimes, if you're a pen and paper person it can be useful to write down the things that you might want to pray for in each of the different postures. Or you can wing it!
Then move it…
You can work your way through the different postures speaking out your prayers in each place, pausing to listen to God.
Or if you are a mover and dancer then you can step out the things you have written into some simple movements or hand gestures.
Remember
The intention that you bring a movement can make it a prayer. So even if you're washing up and scrubbing something clean, you can choose that movement for example to be a prayer…
About removing bad words said against you or someone else.
For new things to come when old stuff has gone.
To see the goodness amongst the craziness of life.
Intention in the action creates the prayer.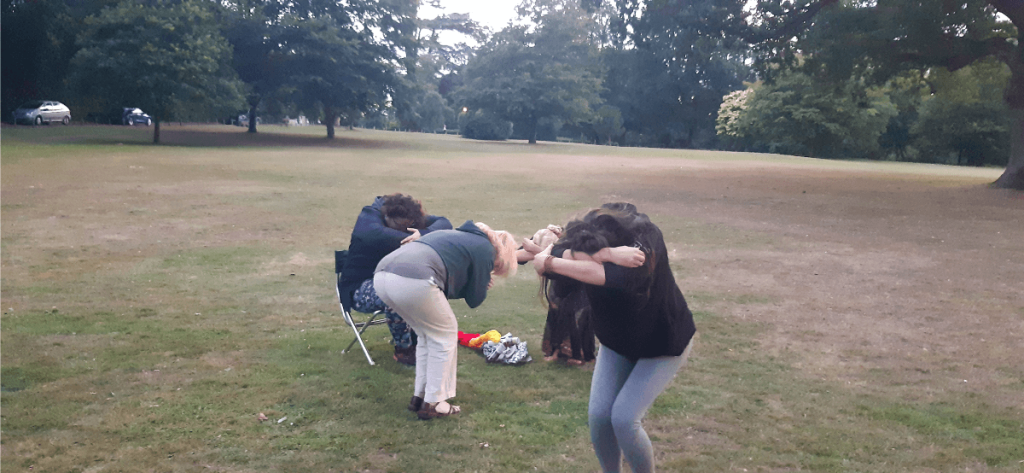 – –
If you're interested in learning more about prayer, dance and movement then there's a free PDF download you grab here.
There is also weekly prayer dance bite session, where we look at scripture and how that reflects in our life at the moment and adding movement to do. More information about this can be found on the Prayer Dance Bites page on the website here.