This week we meet the lovely Lauren from Toddle Tales. Lauren shares a bit about herself, what Toddle Tales is and why it's passionate about sharing Bible stories for children.
Tell us a bit about yourself.
Hello, I'm Lauren, and I am a married mum, with two gorgeous boys, who are 6 and 2. I used to teach music before I had the boys and I love dancing, singing and watching series on Netflix!
Toddle Tales is the re-telling of Bible Stories for children, particularly the under 5s. Although, since lockdown ages up to 10 years old have also been enjoying it! All stories are made up of narrative and songs. This helps reinforce the story and these songs are written to the tunes of nursery rhymes. Before lockdown I did live sessions which were very interactive. The children got a chance to join in with the songs with either dressing up, performing actions or holding puppets. Since lockdown I have ventured into producing videos. Which have been reaching lots of different ages groups and I know have been very useful for parents when they want their children to engage with something Biblical on a Sunday.
How important is the Christian faith with Toddle Tales?
The Christian faith is important to Toddle Tales, because that is what drove me to create it in the first place. It was when I was working for a company called Molly Moo Cow, going into nurseries and singing and telling stories. God gave me the idea to do this for Bible stories.
Using the skills that God has given me, I have created another way of telling the Bible to children, in a way that is accessible. It is early days for Toddle Tales, and I have no idea what the future holds…but that is what faith is, trusting without knowing what will happen.
Why is it so invested is it so invested in teaching Bible stories for children?
Toddle Tales is invested in children because as Whitney Houston put it "I believe the children are our future. Teach them well and let them lead the way" (Yes, I love a bit of Whitney). But of course, before Whitney sung this, the Bible teaches us to
"Train them up, in the way they should go." Proverbs 22.6
Toddle Tales is just another way of teaching the Bible to young children, in the hope to engage them from a young age and plant seeds in their heart.
Can you share 3 tips to encourage parents in their conversation or teaching with their children about God?
OK so I sometimes struggle with this one myself(!) What I do try to do is best described with three words – pray, dance, and joy!
Pray
Actively choose to pray with them before they go to bed. Currently its just me who leads prayers as my eldest son struggles a bit. We thank God for the day and ask for a good night's sleep with no bad dreams and that we would have a good day tomorrow. I feel it's important to identify the things we are thankful for as well as look ahead to what is to come. Often, it's very short to keep their concentration. But it's still demonstrating to them how we can have a conversation with God regularly.
Dance
We do a lot of dancing, so I put on worship music and let the words of the song permeate into their souls. Waymaker is a firm favourite at the moment, but often we will find a compilation on Spotify and see what comes up. Adding in songs that they want to as they go. I try to give them a sense that all music works with movement and talk about them having a dancing spirit and how God loves it when they dance!
Finding the joy!
My older son gets very cross and his personality gets him stuck in the "it's not fair" thoughts and attitudes. So, I have recently tried a new tactic of singing "I've got the joy, joy, joy, joy, down in my heart song" Yeah, you know the one I mean, it gets stuck in your head!! But I have found that cuts through his mood. He tries not to smile, but I can see it helps him to break free. He even started singing it the other day in CO-OP (really loudly haha). I suppose what I try to do is rather than drum into them about God. I bring God into our every day, through creative means, as we all know that children learn best through creativity.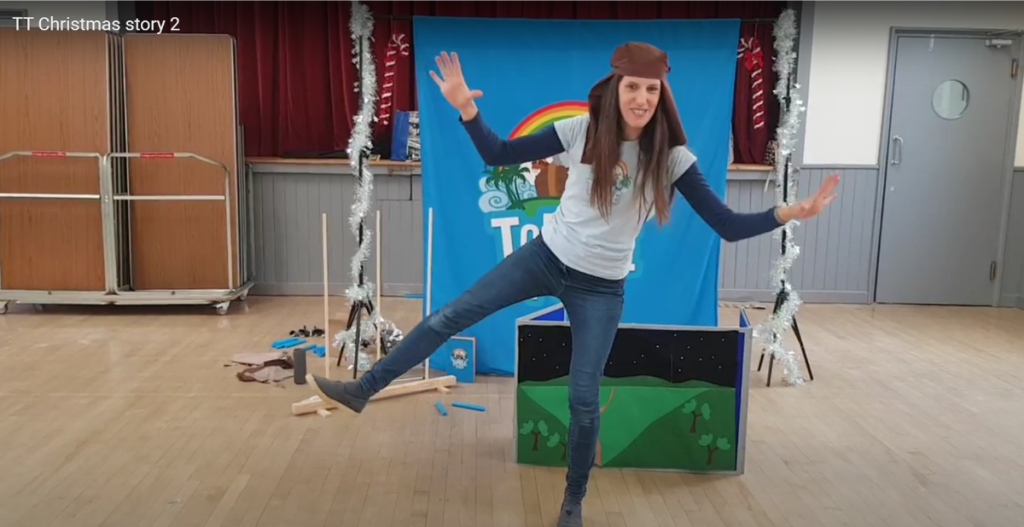 Finally, Lauren, what is the thing you love most about Toddle Tales?
The thing I most love about Toddle Tales is creating the stories and performing them. Since lockdown I have also ventured into producing videos, which I have also loved doing and the feedback I have got from them, has also been worth it too.
– –
So great to hear about Toddle Tales and some of Lauren's heart. If you want to know more about Toddle tales you can follow them on Facebook here and check out some of their videos on YouTube here.
If you'd like to read more about sharing with children, check out this blog post here from Prinith's experience teaching children worship dance.